'91 RT4WD -AK Style- Build Thread
Jaudette
Wagonist
Alrighty, where do I start.
I guess I'll go ahead and fully introduce myself, My name is Jason and I have lived in Seward, Alaska since the day I was born. I am currently employed as an Apprentice Diesel/Heavy Equipment Mechanic by a construction outfit in Prudhoe Bay, Alaska. Since my work schedule is 4 weeks on 2 weeks off this build thread is going to be a bit of a "Stop Go Stop Go" ordeal.
Originally I started out with a '90 CRX with a bone stock DOHC ZC engine I bought when I was 15, and unfortunately being of that age i riced the shit out of that thing. The engine i am running in my wagon is the same one i built when i was 17.

The Beginning: 2008 (High School)
I realize this is a wagon only section but to start from the beginning I'm gonna throw in this picture of....
"Rex" back in 2008
And this is the spark that set off a still burning chain reaction of money/time spending
The first time i pulled an engine
the timing belt didnt hurt the engine, it just seemed like a good excuse for one of these T.L.D.s (tricky little dealys)
some of you might recognize that as a 1g eclipse/talon turbo, i was initially going to run this with a MAP fooler and hf manifold with adapter.
but first I'll need a rotating assembly...
Clearance cuts for the bigger rods
Port matching
I really dont have any pics from the intall but here she is in the CRX (Hang on, the wagon is coming)
By the time i finished the bottom end i had purchased a second hand turbo, i had it so briefly i dont even remeber what it was but i know it was a little bit bigger than a tdo5h.
I'll put the full Specs of my current setup at the bottom of the post.
The CRX Never really ran right, it was however a HUGE learning experiance and really helped me hone my skills and make my mistakes so I didnt mess up on......

Spring 2011: "Lydya" '91 RT4WD

I Do not have a picture of the day i bought this rig.
I picked this one up for $750 in pretty decent condition. Now you must understand that decent in Alaska is like super shitty in the lower 48, there is minimal rust but NO clear coat left, a couple missing trim pieces and the typical dents. Also the windshield is cracked, but that's pretty standard up here. the rear driveline has a bad u-joint so it hasnt been installed since iv'e owned it. I drove the car home from Anchorage (120mi) with a clean title. The d16a6 from this rig went in the CRX and I sold it. It took me about a day to put the engine in and get her up and running.
shiny new turbocharger.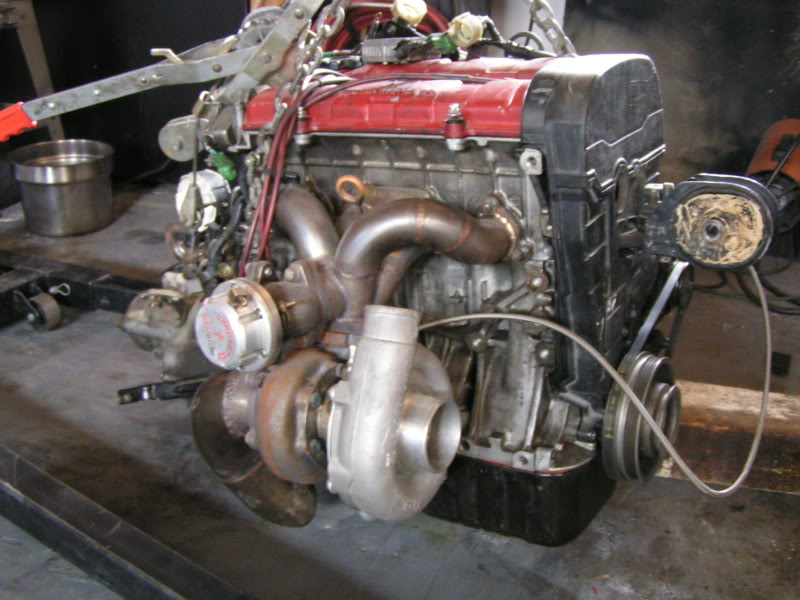 pretty decent day outside for some wiring
custom built 3" turbo back exhaust
Here's how she spent winter 2012 unfortunately, shes sitting next to my '76 Nova (Hint: the Nova is parked in front of my truck) :-(
this is the most recent pic i have
Today: Back At It Again
Current Setup: (what i can remember)
Engine: DOHC ZC
Bottom End:
75mm Vitara pistons
"Revolution" custom length shot-peened forged h-beam rods
ARP rod bolts
Golden Eagle block guard
New bearings and Blueprinted.
Top End:
Cometic metal head gasket
Hand Ported by PIE-R in Anchorage, Alaska
new valve seals
port matched intake manifold
port matched turbo manifold
Turbo:
RC Autoworks Stainless mini ram manifold
Garrett T3/T4 50 Trim .48 A/R purchased new
Mishimoto z-line intercooler
Turbonetics Evolution waste gate (open dump under engine) 15 PSI
ebay piping
Greddy knock off BOV
Apexi dry air filter
Electronics and Fuel:
Neptune RTP in Xenocron socketed P72 (Moates Demon Board)
RC 650cc Injectors
NGK plugs and wires
GM 3bar MAP sensor
Innovate MTX-L wideband
Suspension:
Jim Fab traction bar
Custom broken spring on RF
Brakes:
Iron Oxide coated rotors
end
That really is all i can remember at the moment i know there is more.
honestly i hate to say it but i lost interest for awhile and actually had this on Craigslist for a little while, must've been too busy drinking or screwing off in the woods. now i just kinda fell back in love and decided to go for broke.
i have alot of plans for this rig, 2 more weeks and then i can go work on it, cant wait. I'm gonna budget myself $1500 every hitch (one work rotation) that should be enough to make something happen every time i come home.
as far as my plans? words are cheap, just wait, ill just show you what iv'e got in my head. I will say that when it comes to suspension some one had the idea first, up is better than down.
peace,
Jaudette