Lithuanian 1992 Shuttle named "Gargamel".
Tadas
Wagonist
After looking around for a few months of importing a civic shuttle I got lucky and found one close by!
This is currently my new project car named Gargamel, who always wanted to eat smurfs. I named my shuttle after him because for now they both are just as ugly.
It is 1992 1.6l 4wd greenish shuttle made in japan (according to vin number).
When I got it it was getting ready to be prepped for painting, so as you can see some of the panels are off.
There are quite a few bad parts about this car, but hey I got it quite cheap.
Good thing is that it has most of the original interior in tact. I did start fixing the driver seat tears and right away I got the whole interior cleaned.
Since I got this car from a previous owner that works as a mechanic and DD'ed this shuttle, most of the mechanical bits worked incredibly well.
The engine was also really clean and rebuilt. However, I got this offer for someone to buy my 1.6l stock engine, and luckily in our clubs garage there was a pretty much good to go d16z6 motor lying around. So before I could even make this thread I sold my stock engine and bought the new one. I did promise myself that this car for once would NOT be for the sake of power upgrades or going fast. This is because I already own a 172 renault sport clio that is prepped for racing on gravel and I dd a lightly (400hp) evolution X.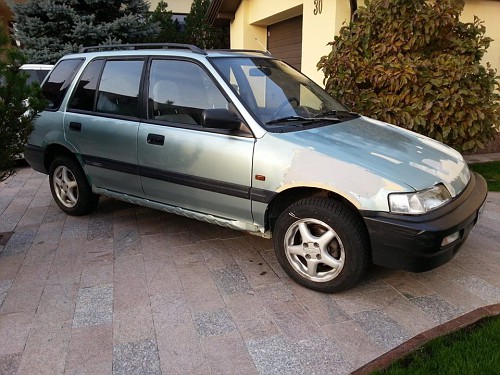 P.s. It has the original honda tow hook!
Interior was incredibly nasty. Cigarettes and all kinds of nastiness.
Old motor getting ready to be taken out.
So my desire is to make this shuttle a comfy, stylish retro looking car that I could drive on the weekends and sunny days as mostly show-off car.
This car needs so much love I hardly know what to do. It has the clunk and a bunch of problems.
However, for now the plan is:
- Get the new d16z6 fixed up and ready to go in (needs some light work)
- Get rid of all the rust and weld the panels etc.
- Paint the car in J45 racing blue (solid, non-metallic) color that comes from renaultsport.
- Find an original honda radio unit.
- Get the middle "wing".
- Get the fugly window tint off.
- Put on new roof rack.
- Make a decision on 15x8 wheels.
This is the color I want my car to be:
Last but not least I want to ask you guys for some big help.
My next most important step is to figure out how to make my shuttle sit a bit lower, and still have as soft suspension as possible.
I do not want to "stance" the wagon and have negative camber. I do want to have somewhat of a "meaty" bulky look, having more tire.
I did look into a bunch of build threads on here and read almost all things concerning suspension that I found on here.
Firstly, do I need to flare the fenders?
Secondly, what suspension set ups coilovers etc. you guys would suggest for me to get as most comfort as possible and have the car sit like this one:
I will say it again it does not really matter how the car will perform because I just want it to be plushy and look good.
I am really looking forward to buying parts and getting this car to stand out of the crowd!