Civic RTSi EH1 K24A3 4WD/RWD and CRV RD2 B20V
Gonis
Band Wagon
Hello, greetings from eastern Europe. I rarely comunicate in english, so please excuse for poor grammar. I would like to share the info and fotos of my vehicles. Also I appreciate any comments, critics or instructions on further modifications. EH1 First one is 95' Honda Civic RTSi. I bought it 1 and a half years ago as a new daily. I remember when I seen that kind of civic about 5 years ago... It looked so unique and appealing. That day I added that car to my wish list among other uniques. In our country these cars are very rare, I think there were no more than 10 of them. For that moment I know only 3 that are alive, and one of them is mine. Our climate and road maitenance are very ungrateful for these poor civics, almost every of these models were very rusty. And one day I saw that civic on sale. At first I wasnt very interested, because it was seriously damaged by rust and my finansial situacion was too bad to restore that body. Time passed, nobody bought it and the seller changed its mind, started body welding. After half year, he put that car on sale again, but the body was rewelded. My finanses were better and I made my decision. All my previous cars were fwd (almost all of them were civics), so this model was new experience for me. At first it was so strange to drive this car, it looks like a one of a million civic, but it acts so different. Handling was different, grip was outstanding, offroad capabilities just blew my mind. As you can see, at first I used it for offroading (just because it gave a lot of fun and this car was very good at it). My first mods were to improve offroad capability - I added to S22 tranny a slow gear (was huge improvement) and changed rear diff (that was identical to CRV) to Intrac type (had VC unit ant Viscous LSD). Also did small lift and put bigger wheels. After that it was great offroader, kicked asses to many subarus (even foresters), quattros and similar vehicles.
Later that year, when winter came, I discovered that this car is very fun to drive in snow. Handling was predictable, so for amateur like me it was good start to develop driving skills. After winter I participated in track day event and was very happy with results - with this car I was much faster than earlier with more powerfull, lighter and more race type of civic. Maybe my skills advanced, but RTSi was so predictable at high speeds, that I decided to make a trackday car from that. Now it looks like this:
So enough of these stories, and lets review the car.
Engine:
It had D16Z7 engine with S22 tranny (similar to Shuttles L3, but hydro and without SL gear). I planned to go turbo, but I had one think to worry about - transmission. S22 tranny is very rare, so the only choice would be to change it to cable L3 tranny, but it requires a lot of modifications. So I started to think how I can solve this kind of problem. One day I called to local junkyard and asked the prices of CRV tranny and engine. The prices were lower than I expected, so the fate of d series engine was clear. I bought everything I need to swap B series and in one weekend installed it. It wasnt bolt on, It needed to weld two mounts for tranny, make custom shifter cable, and of course shorten the propeller shaft. Later after some track day events I felt comfortable with that 140hp engine on a 1,3 tonn car and realised that I need more power to get better results. Car run just 16.2s 1/4mile and took 8,9s to 60mph. So I found cheap b16 head and arp studs. After ecu and cam tuning it ran 14.6s 1/4 and 6.6s to 60mph. Not bad improvement I could say.
Setup at this moment: B20Z1 block with arp rod studs and oil pan baffle. B16A2 head milled 0.8mm with adjustable cam gears. Stock manifolds, 60mm exhaust, 76mm intake pipe. And also LPG system, because petrol is really expensive in comparison with average wage.
Body:
As I mentioned the body was damaged with rust, so I had to clean them, weld some holes and do the proper anticorrosion. Also I installed full vti interior, JDM 4gen prelude center console and double carpet for more silence. Sadly the exterior is quite trashy, because I have no practice in painting and I cant leave this car in paint shop for month as it was my only transport to work. Maybe in near future Ill manage to solve this.
Suspension:
26mm front swaybar, no rear swaybar. Koni yellow adjustable shocks with way too soft weitec springs. All bushings changed to poliurethane. Front caster increased to 5 degree. Using Team Dynamics Pro Race 2 R15 7j wheels with BF Goodrich street tires 195/50.
Brakes:
Front 282 4x100, rear 260 4x100 discs. All parts are ATE manufacturer.
And bonus surprise: One day I had a fun idea to experiment with exhaust manifold.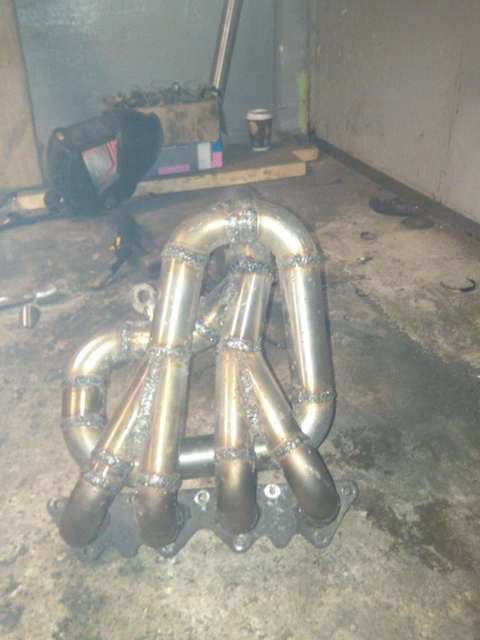 It looks like crap, but the purpose was different:
https://www.youtube.com/watch?v=-1AzVbjRUd8
Obviously this manifold was total crap in HP gains, so later I changed it back to stock. Plans for next season: Make it 100kg lighter without throwing out interior. Change rear diff to cast iron from shuttle and install OBX lsd in it. Change gears to H22 setup. Stiffer spring setup RD2 About month ago I bought new daily - 00' Honda CRV. Managed to find rustless one. It has leather seats (no heating
), and also B20Z1 engine. I like everything in it except one con - there is no SL gear. Its very hard to climb on sandy hill. For RTSi that kind of hills was peace of cake. Also the dual pump clutch pack is not enough for difficult hills. Luckely the second issue is easy to solve. So my plans for it...
Change 4 and 5 gears to longer ones from F series tranny. Instal H series LSD to front. Steal rear diff from RTSi Spray bottom with aticorrosion coating Maybe some turbo?