1989 EDM FWD Shuttle 1.5 GL
andreas542
Band Wagon
Hi guys, I've finally got some work done on my Shuttle after moving house and stuff after buying it, so it's time for a build thread!
Background: Other than my Shuttle, I've seen one, once. It was on a train in Switzerland, and I only saw it for a few seconds, but somehow I knew I had to have one. I'd previously been looking at getting a CRX or an EF hatch, and I was aware of the Shuttle, but never thought much of it. It was gold and parked up in a big car park but stood out like a sore thumb among the other cars - so much retro awesomeness.
So I start looking, and it takes around 4 years until I see the first one on sale here in SWEDEN (where I live, not Switzerland where the above "revelation" occurred). I get on the phone to the seller and buy it unseen within two hours. Here's the original advert:
"There's absolutely no rust on this car" and "There's nothing wrong with it at all" the seller assures me. Yeah, right.
The car has lived it's whole life on the island of Gotland, where they don't use road salt. The seller offered to deliver it to the mainland for me, to save me going out to get it, as he worked on the ferry anyway.
Quick geography lesson for those who don't know Sweden. Gotland and Stockholm (where I live) marked on the map:
Picking it up at the docks:
______________________________

So what's wrong with it?


- Main problem is rust (of course, it's a 28 year old Honda). The main spot is on the left rear arch and I think I'll have to learn to weld/have someone help me fix it. Another area is in the engine room where the battery has leaked. Affected areas include the front crossmember and the passenger side engine mount.
- Second main problem is that the engine leaks oil from the seal between the block and the head. Probably needs a new head gasket, and I'll do a mild rebuild of it while I'm at it. I'm considering an engine swap in the future, but right now I want to enjoy driving the car so I'll stick to the original D15B2 - a reliable, economical engine that I've also got in my EG8 sedan.
- A baffle in the mid-muffler has come loose and rattles - nothing major but a very annoying noise and makes the car sound as old as it is.
- The driver's door-stop thing has come off the frame and needs to be reattached, probably another welding job
- Seats are a bit rough - hole and missing foam in the drivers seat
- Sunroof (aftermarket) leaks water and has been duct-taped shut
- Various cosmetic problems. Everywhere.

So what's your idea?
When I was a kid we had two VW Beetles from the 1960s. We drove these to car meets, cruises, on holidays across Europe and it was awesome. I love Honda and their cars, and I want a classic car that is still reliable and practical - here the Shuttle fits in perfectly. It's also very cheap (or at least this one was) to buy, which is an added bonus. I also have a lot to learn about working on cars, and I think this is a good car to learn to work on... I'd like to learn:
- how to weld
- how to re-upholster car seats & trim
- how to re-build an engine
- how to paint a car
Being ambitious is great, hopefully I'm also not underestimating the difficulty in all of this.
So, I want the Shuttle to be a cool little retro ride. It won't be a track car, and it won't be "stanced". I will do things to improve the ride (like aftermarket suspension) and looks (aftermarket wheels) but I'll try to keep a lot of things original. There are only 65 of these left in Sweden (official statistics) so I think they're worth saving.
Pictures from when I got her:
Taking out the interior: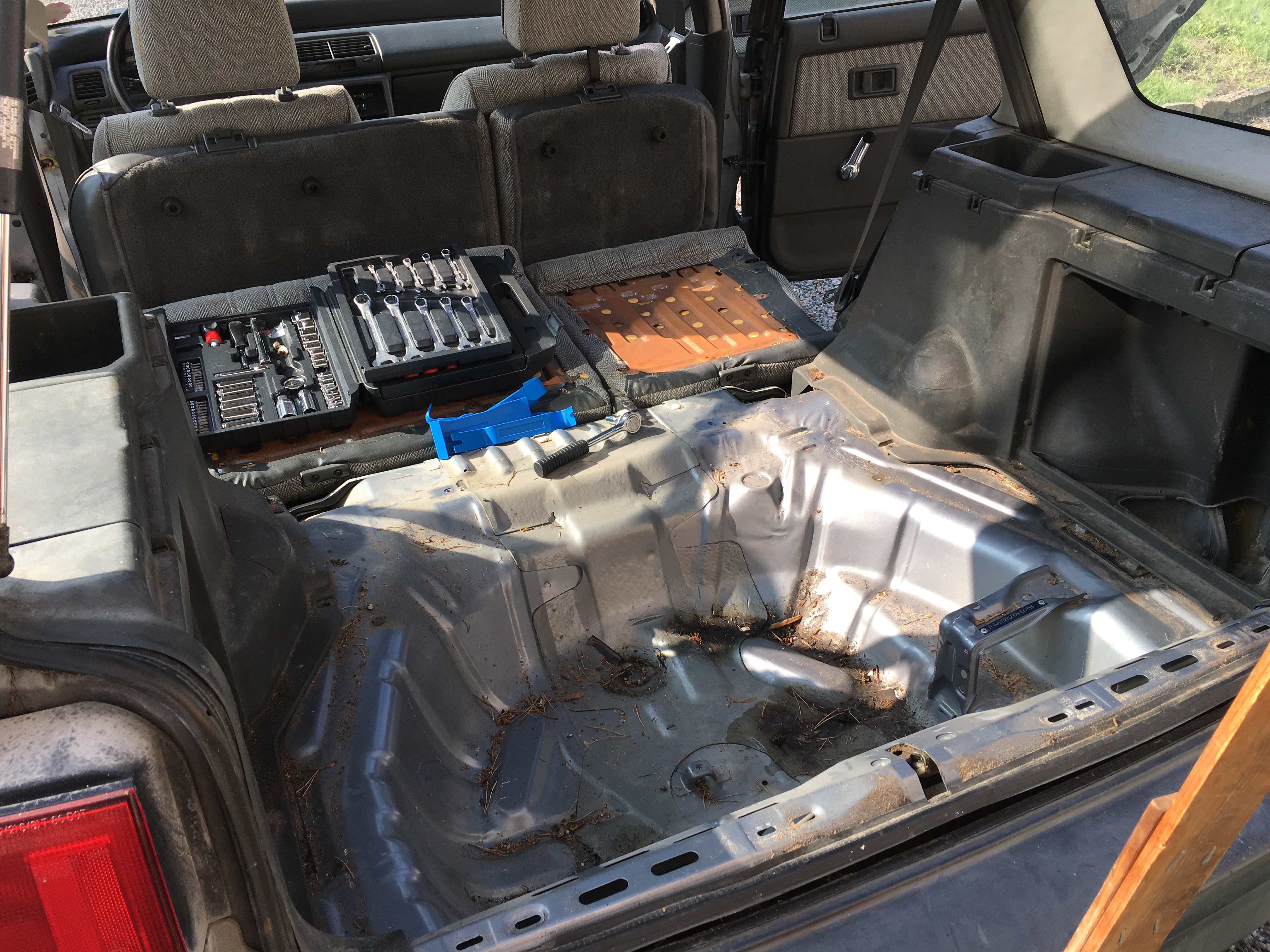 Really clean under the carpet, which was a real relief!
My loyal assistant taking a break in the shade
Carpet is out! Cleaning time!
Better
Scored a replacement sunroof in a Facebook group for Volvo parts. It's some obscure Finnish "Finlandia 2000" that was offered by Swedish and Finnish dealers on SAABs and Volvos in the 80s. Evidently also Hondas.
Got the exhaust off to see if I could do something about the rattle. No.
Old sunroof off:
I now have a love/hate relationship with duct tape. So annoying to remove the stuff.
Head liner also removed. It fell apart in my hands.
Will be recovering the headliner with some cool fabric. Here it is in the meantime:
Here's the door stop thing that needs fixing/welding:
Rear bumper removed. No rust here either!
These bolts were STUCK. Really stuck.
VICTORY!
Rear bumper plastic is very twisted, going to try to straighten it out.
Heat gun, wooden blocks, clamps.
Cleaning up the rear bumper support. This thing was DIRTY. Going to treat it with a rust converter then paint blaaaaack.
Detail:
Here's the rear arch rust.
Not so bad, right? I poked it a bit and...
Oh dear, that's worse than I thought. But still not awful.
Took the side skirts off and the metal was very clean underneath:
Rear fog light seal had failed and had been full of water for some time. It was also held on with tape. Result:
They both cleaned up nicely though:
That's where things stand right now.
Can anyone advise me on the rear arch rust? I've gathered that nobody makes replacement panels for these, but that some people have used front HB fenders instead. Is that going to help in this case?